January is spoOoOooOoky because it is barren, cold, dark, and miserable.


Halloween is over.

Christmas is over.

New Year's is over.


January..has...nothing.


Just cold, bitter temperatures and a whole heap of depressed people returning to work/school.

Even Monster Bash 2009, which I've already begun thinking about, seems so very far away.
What is there to look forward to?
HORROR MOVIES!!!
Nothing like packing into a nice warm movie theater for some Horror in January!
UHM
always keeps me in check.
Here are the list of movies that look like something Monster Bash Blog would enjoy, compliments of
Upcoming Horror Movies
: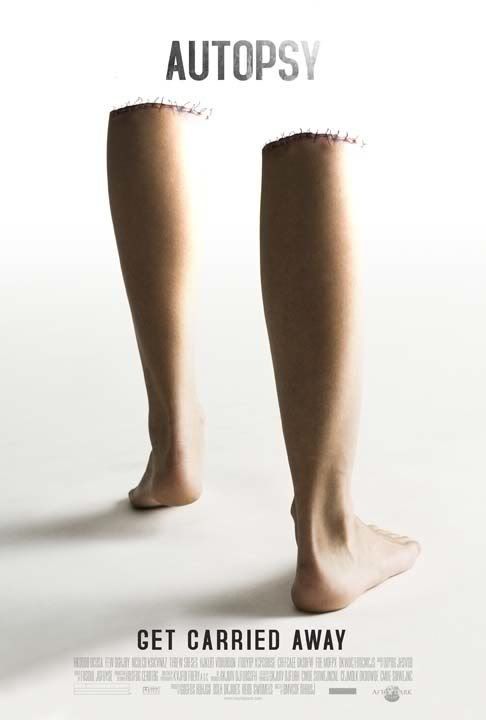 Autopsy
. From the looks of it,
Autopsy
appears to be really, really disgusting in a "House of Wax"/"Texas Chainsaw Massacre" kind of way. The synopsis says that it's about this girl who tries to find her injured boyfriend in a "spooky" hospital. Anything that uses the word "spooky" is good in my book. I watched the trailer and there appears to be a scene where the doctor removes an organ in its entirety out of the guy...blood and guts galore! Supposedly no CGI were used to keep it "old school". Monster Bash Blog is interested. See if you can pick out the lone big name actor in this:
The Unborn
. I actually skipped right over this one because it said something about it being a horror movie involving a little boy from the
Holocaust
and I felt that that was inappropriate. I didn't want to go see a
horror movie
that included the Holocaust too...too much. But then I saw a picture of the little boy and it freaked me out...and also
Gary Oldman
and
the guy that played James
in
Twilight
are in it...and you know how much I love Twilight and
The Dark Knight
. So there you have it. My only issues is that it's kind of like
The Omen
, and that the lead character,
Odette Yustman,
loves jogging and showering in movies. I only recognized her because I recognized her jog from
that Lifetime movie
where she was a teacher who got fired for being in a porn even though she wasn't in a porn...long story....anyway, here's the trailer:
My Bloody Valentine 3-D.
I know, it's a
remake
...but seriously, it's in 3-D and I am always, always willing to give 3-D a chance....ok...well...almost always. I personally love that they show the "audience" experiencing the insanity of 3D...and the tag..."Nothing says date movie like a 3D ride to Hell". I'm sold:
The Uninvited
. Ok, so I saw that it was PG-13 and that one commenter said that there's too much bikini footage...so I almost didn't give it a fair shot...but it's like "The Ring" mixed in with a
Lifetime
movie. Also, that above movie poster is absolutely frightening. There was one part in the trailer where I actually jumped, so I think I'll give it a chance. Apparently this is
also a remake
from
1944
? All I know is that
the guy
from "
Big Girls Don't Cry...they Get Even
" is in it as the father, so I'm pumped. The plot is identical to about 3 Lifetime movies, just add a few ghosts:
Film I feel most uncomfortable about:
Donkey Punch
. Yep, they really called it that. I think even
IMDB
is unhappy with it. It sounds like one of those "Hostel" "Saw" type of movies where tourists meet up with the wrong crowd and things go horribly. You know how I feel about those kinds of movies...and then wow with the title. I couldn't even bring myself to watch the trailer to this, because I feel like I'll be flagged.





So there you have it! The most anticipated horror movies of January '09!