I've been doing a lot of spoOoOoOooOky appreciations lately, haven't I?
And by "a lot"...I mean two. I like doing them though, I mean...what better way to blog about spoOoOoOoOky Halloween magic than to include you, my wonderfully terrifying readers!

In one of my past blogs, Julie from the Courtney Girls blog suggested a great horror movie:

30 Days of Night (2007)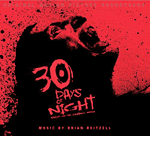 and I was shocked, and slightly embarassed, that I haven't covered this movie yet, because it is great!

So, closing out the un-spoOoOoOky month of May is a horrorfest known as: Monster Bash Blog's SpoOoOoOktacular Review of 30 Days of Night!


The movie is based off of a horror comic book series of the same name. Directed by David Slade (also directing the next Twilight film: Eclipse), the movie takes place in a town called Barrow, Alaska. We join the movie as the town is gearing up for the annual period that the sun sets for 30 days, and the town is besieged by darkness. Josh Hartnett stars as Sheriff Eben Oleson, who is the hunky, good looking sheriff in town.


Of course, there's an underlying drama of him and his wife, Stella, going through a separation, and she is preparing to leave town for the 30 day period and leave Eben in the dust.


That's Stella. She's one badass chick. And a heartbreaker.

Let me also just say here that I love, love, love when I'm watching a horror movie and the screen goes black and it says something like "Last day of sun" or whatever. I love it. It creates such a spoOoOoOOky mood. They had it in 28 Weeks Later as well and I loved that too. I appreciate the little things.

Anyway, we follow Sheriff Love Stallion all over Barrow as he does his rounds...except today, weird things are happening that can't be explained...

A weird stranger has entered the town...but he hasn't flown in...he's walked (you see him in the beginning).


**note my only pet peeve with this movie really is the stranger's voice...it's pretty annoying.
Anyway...
People start brutally dying.

Then the power goes out and the phones go down.

And then...vampires go on a murderous rampage!

There's blood all over the snow covered town. It's mayhem.

Basically, this movie is a vampire movie. But not like, Dracula vampires....

These vampires are friggin' awesome looking:




Their eyes are black and beady...and they are covered in blood and they make these screechy noises when they're "feeding". They also speak another language, and they love classical music.

This one is the "head vampire":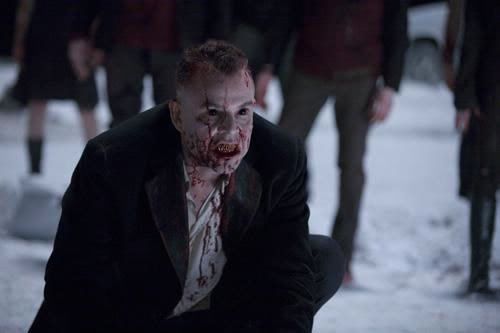 He does most of the talking. The others mainly screech.

The survivors in the town have to wait for snowstorms to provide cover so that they can move from building to building in an attempt to make it to where the generators are to wait out the rest of the 30 days until daylight reappears.

A lot of crazy things happen...and the ending breaks my heart. I mean...come on. Why can't the ending be happy? So sad. He loves her.

You can actually watch the entire movie on YouTube here (it's in different parts, but all you need to do is click). I actually watched the entire thing again and it was just as awesome as I remembered it, and I saw it in theaters...so this is pretty good. Just a suggestion...do the full screen if you're going to watch it on YouTube...I learned that by part 6 and it was so much better.

Oh, and think you're a fan?
Think again!