I remember as a kid I used to get SO PUMPED when I would see those carnival fliers that a carnival was coming to town. I knew all the carnival "hotspots"...the K-Mart parking lot....next to Wendy's...you know what I'm talking about.

And then I'd usually get someone to take me, or as I got older, I'd get dropped off to meet friends and we'd do the "laps" around the carnival, play a few games, maybe I'd win some garbage that would sit on my shelf or in the garbage forever.

And of course...there were the horrifying carnival rides....

Zipper



It appears that this is a main website for the Zipper. The Zipper is one of the most terrifying rides of all because the only thing separating you from a concrete death is a small pin holding together a thin cage of painted metal. Also, the guy running the Zipper is rarely someone that you would want to converse with on a human level. He (I've never seen a she) usually has mid-back length hair, is wearing a flannel that has a few holes in it, sporting unkempt facial hair, a backwards Daffy Duck cap, and may be covered in motor oil. His fingernails are also 4 inches long and he loves listening to Godsmack while rotating the Zipper cages. Or Drowning Pool.

The Zipper also has its very own Facebook. Who'd have thought?

The Domain of Death3 , which has some great reviews on all rides, carnival and otherwise, also has some great info on the Zipper.


Gravitron
Are we in outer space?! Whoa!! The Gravitron is perhaps the most visually appealing ride of them all, with a weird UFO design. While on the ride, you'll notice about 70% of the riders turn themselves completely upside down, and the rest of the people are busy feeling their cheeks separate from the rest of their faces. Also, you have to walk up an awesome ramp into complete darkness where it's you, your friends, complete strangers, and some dude, usually a DJ in the making, in the center running the ride/music selection. The music in here is either techno, metal, or gangster rap. Take your pick, I've seen them all.
This video has the elusive "hip hop" dj:
Kamikaze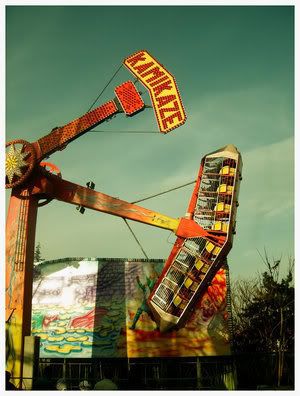 The
Kamikaze
ride looks kind of like two opposing hammers that swing past each other and go upside down and makes me want to barf. Fortunately, you get a shoulder harness. Unfortunately, it doesn't look safe to me.
Ring of Fire
This
ride
is basically one huge loop. It's a rollercoaster that is in an eternal loop mode. According to its Wiki page, it says it's not good to operate this ride in frequent lightning. Apparently there is a lot of red tape to operating this ride: hydroplaning, not allowing poor unsuspecting riders to hang upside down for more than 6 seconds, etc. It also makes loud screeching noises as it reaches the top to stop. Yikes.
RoundUp