I have a really funny memory of my friend Heather and I when we were younger. Heather was always such a horror movie buff and her parents had a great collection.

One year for our town's Halloween parade and contest, I think we were in 6th grade, I dressed up like the Molly Doll from American Girl (I know, not my brightest moment in horror history) and she dressed up as Dr. Giggles.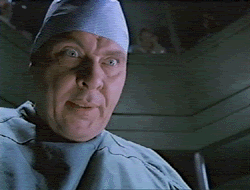 You can just imagine the judges at this event, judging adorable apple-cheeked 6th graders and coming up on a girl wearing a bloody surgeon uniform. I think she won 1st place, I'd like to think based on their fear and her creativity.

In any case, that was one of her favorite movies, and I remember her so vividly carring a huge knife (fake, obv, we were like 11), wearing bloody scrubs, and telling people she was Dr. Giggles...followed by a maniacal preteen giggle.



Dr. Giggles is from 1992, directed by Manny Coto (for all of you Star Trek/24 fans out there). It's about the psycho son of a murdering surgeon who comes back to the town of Moorehigh to "seek revenge" and "giggles" while he kills everyone.

Basically, he and his father were "ripping patients' hearts out in a gory attempt to bring back the doctor's dead wife" -Wikipedia. That father surgeon was stoned to death, but the son (Dr. Giggles) escaped.

Dr. Giggles ends up coming back to Moorehigh, out for revenge.

It really doesn't star anyone famous, except Holly Marie Combs, who is in Charmed and that lifetime movie where she and her boyfriend are in the military and they kill some girl and then they talk to each other in code like instead of saying "I love you" they say "greenish brown female sheep" (get it? olive ewe?) or something like that:


She always looks like she's super pissed or in serious pain. Perfect for Dr. Giggles.

Anyway, Combs stars as the main character, Jennifer, who coincidentally is diagnosed with a heart condition and has to wear a monitor. Of course, there's parties and promiscuous teens involved, and Jennifer goes through drama seeing her bf Max with another girl and running away, all while Dr. Giggles is on a murderous rampage.

Jennifer eventually gets successful heart surgery all while defeating Dr. Giggles. A lot is accomplished by Jennifer in this film, I suppose!


Also, this movie is filled with bizarre medical murder scenes and corny lines delivered by the Doc.



I mean...the tagline is:

Sorry...the Doctor is in...sane

Tell me you didn't cringe a little on that one.

He also addressed the audience directly at the end when he's dying, saying, "Is there a doctor in the house?" Boo.....

All in all, this movie is so ridiculous, you should see it. For nostalgia's sake.