I know...Batman isn't really scary. Well, I mean these newer ones by Christopher Nolan are pretty dark and sadistic, but, comic books don't really strike me as frightening or Halloween related. And so...here's where I tie it together: people dress up like Batman characters for Halloween...so there!

But in any case.....you don't understand: I LOVE this movie. I've never felt this way about any other film I've viewed in my entire existence.

This past weekend, like the rest of America, I went to see The Dark Knight. We went on Saturday night, and it was JAMMED. We sat up front.
For 2.5 hours, my eyeballs were consumed with this piece of fantastic art.
I was a little sad when it ended.
So we went to see it again Sunday.

It's all I've been talking about. I find myself thinking about what Lucius Fox is doing right now

I'm devastated that Heath Ledger is dead and will never do another scene as the Joker, who blew my mind when I watched it. Have you seen him as the Joker?

Forget it...completely amazing.
Here's the trailer in case you haven't seen this, the greatest movie in the history of man, yet:

I can't even begin to express how much I love this movie. Don't even start with the "but it's 2 and a half hours" routine, because you know what? you don't even notice...that's how incredible it is.
The only weird part about the movie is that Maggie Gyllenhaal replaces soggy towel Katie Holmes to play Assistant D.A. Rachel Dawes....I mean, they both have brown hair...but....they're two different people. Oh well...
Let's go back to how awesome the Joker is.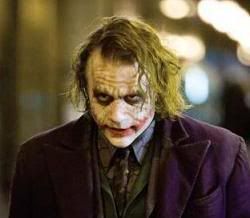 This movie...the action scenes...the dialogue...minus
Batman
's "Val Venus" impression...
Go see it now. Go see it in IMAX if you can...and bring me with you. I L-O-V-E it.