I made the title European to look extra Euro-SpOoOoOoky, I hope you appreciate it!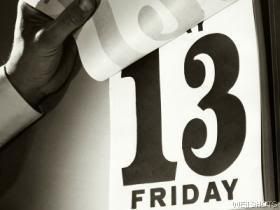 What can I say? I wasn't going to blog today, but how could I not? The next time Friday the 13th will occur is February 2009...which happens to be the opening day of the REMAKE of Monster Bash Blog's favorite movie series of all time....FRIDAY the 13th!!!!! (more to come on that later, because I have alot to talk about with that, and I'm super pumped about it).

But today...wow! This is the self-proclaimed Queen of Halloween's dream come true!

I was actually nervous about going to work and getting my hair done, because the 13th is an unlucky day...

The Wikipedia page about today is actually very interesting...go check it out!

So, go break some mirrors, cross a black cat's path, walk under a couple of ladders...and most importantly: watch a scary movie!